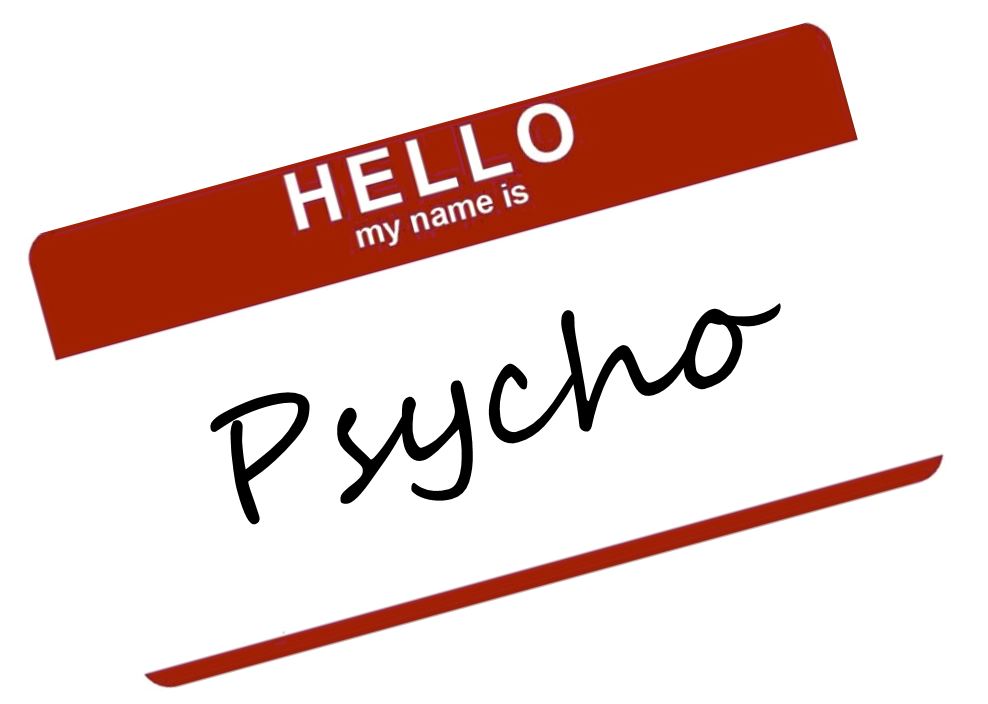 The Corporate Psycho is an individual who systematically lies, coerces, intimidates, or otherwise instills fear in coworkers in the pursuit of power within an organization.
Hiring this person is your worst nightmare. They look great on paper and maybe their references even check out, but you will wish—no you will pray—that you didn't hire them. And once part of your team, the psychopath will systematically and maliciously agitate and sabotage the efforts of coworkers.
The Corporate Psycho is a predator and you are its prey.
The Corporate Psycho has a self-serving agenda with no moral compass. They systematically oppress individual contributions with the intent to disrupt productivity and foster malcontent. They are deceitful and insincere in their relationships and communications. Once inside your department, the Corporate Psycho will destroy the quality of your work life and relationships by undermining the key ingredient to a functional workplace: TRUST. Once in the throes of chaos created by the Corporate Psycho, coworkers lack trust and confidence in each other. Finger-pointing and assessment of blame thrive. New challenges and problems surface, and nothing seems to work like it used to. Even the things that were easy are now hard. Productivity drops, deadlines are missed, quality suffers, negativity thrives, absenteeism skyrockets, and most good people move on to greener pastures. And then your department suffers more as it is placed under the microscope of upper management. That was the Corporate Psycho's plan all along: to create the chaos and then take advantage of that chaos.
What makes the Corporate Psycho so treacherous?
They are psychopaths and very skillful liars, and they believe that their views of the world are more enlightened than others. They have total disregard for people and treat them as a means to end. They befriend only as a means to gain information and power and then use this information to disrupt order and promote their own agenda. Once the workplace is in chaos, they win over vulnerable leaders by promoting an insider's view of how things really are going in-the-trenches. Only they are misleading leaders with lies peppered with just enough truth to seem credible and actionable. And the cost of the Corporate Psycho is substantial.
With an adult population consisting of 1% to 2% psychopaths in the general population,1 you are very likely to encounter a Corporate Psycho in your ranks. Consider the following outcomes directly attributed to an onboard Corporate Psycho:
Less engaged workers are less productive. The Gallup organization estimated that an average of 18% actively disengaged employees cost the economy as much as $450 to $550 billion dollars per year in lost productivity including absenteeism, illness and other low morale issues.2
According to Cornerstone OnDemand, good employees are 54 percent more likely to quit when they work with a toxic employee.3 Replacing employees is expensive and for skilled workers can easily exceed $10,000 per hire.
How do you defeat the Corporate Psycho?
The key to defeating a Corporate Psycho is to recognize the agenda early and to disrupt any maniacal plans.
Recognize the warning signs. Identify potential Corporate Psychos by their telltale traits. This person may appear to fit in at first, but then you will begin to notice the signs. It won't take long for this person to gain trust and set their plan in place. Assess whether this coworker is working on a separate agenda, refuses to follow protocols, is overly negative, or two-faced and insincere in communications and dealings with others. Ask yourself:
Does this individual proclaim to be a rigid follower of protocol but in reality is not?
Does this person seem overconfident and display a superiority complex with others?
Are they willing to do whatever it takes to ascend in the company?
Is there a general disregard for others' contributions?
Does this person take credit for others' work?
Does this person generally take issue with authority?
Once a suspect is identified as a potential Corporate Psycho, govern your behavior accordingly.
Don't be bullied. The Corporate Psycho needs your help to promote an agenda, so don't be a victim. If you suspect you are working with a Corporate Psycho, don't accept advice or share information, unless it is a requirement of your job. Keep your distance. The inner workings of your job and the difficulties of your workday should be kept between you and your boss. Be sure not to put the Corporate Psycho in a position to fight battles on your behalf with your supervisors. They will not represent your best interests. And resist the temptation to get baited into negativity directed to the company or other coworkers.
Document everything. When dealing with a suspected Corporate Psycho, document every exchange with this person. Keep a log by writing down the time, place, and detailed notes so you can reconstruct the substance of your meeting. Remember, this person is a psychopath – he/she will not expect you to document your interactions as they view you as too "weak" to foil their plan. When things get chaotic you'll be glad you documented because you will be in a position to justify your actions with your supervisors.
The Corporate Psycho thrives via a web of backchannel and under-the-radar relationships and information. The most successful of which appear to be sincere, charming, smart and engaging communicators. They systematically instill fear, mistrust, and incite negativity with the goal of making you believe that they are essential to survival in the new world order. Your high standards and moral compass are the best way to rise above any chaos created by the Corporate Psycho. Because ultimately we all need the confidence and trust of our coworkers workers to be successful. As Warren Bennis said, "Trust is the lubrication that makes it possible for organizations to work."4
Footnotes